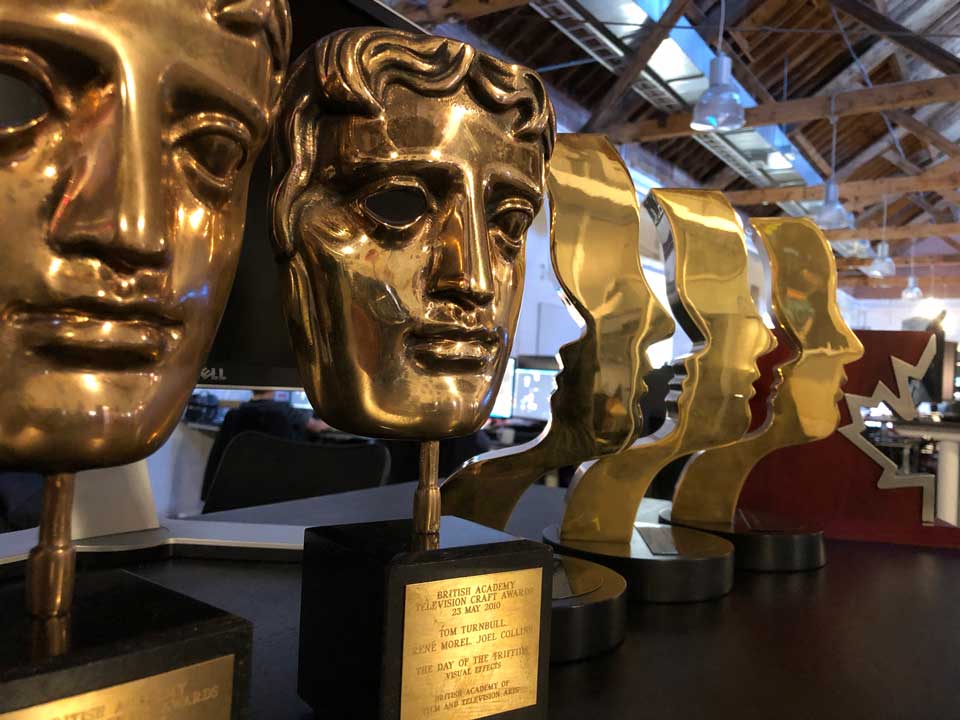 Rocket Scientists
From script to screen, Rocket Science VFX has been captivating international audiences with elegant, award winning visual effects since 2003.
Founded by Tom Turnbull and Anthony Paterson, Rocket Science has produced outstanding visual effects for ambitious studio films and television shows.
People
Celebrating our 15th year, Rocket Science VFX is proud to have independently grown to be among the largest VFX studios in Ontario. Leveraging our talented artists and a strong management team, Rocket Science promotes collaboration and communication across all departments. This ethos is paramount to conceptualizing and delivering outstanding visual effects. Leading the team are industry veterans who have honed their respective crafts for decades toward multiple award nominations and wins.
Tom Turnbull
Producer, VFX Supervisor
Tom Turnbull | Producer, VFX Supervisor
Tom's career achievements reflect his standing among the top VFX Supervisors in the country. His 30 years of experience span the entire evolution of digital effects. Tom is the recipient of two BAFTA Awards: for Best Visual Effects for Titanic (ITV Miniseries, 2013) and for The Day of the Triffids (BBC, 2010). He has also won Gemini Awards for Best Visual Effects for Terry (CTV MOW, 2006), Shattered City: the Halifax Explosion (CBC MOW, 2004), and The Arrow (CBC, 1998). Additionally, Tom has been nominated for two Canadian Screen Awards for Titanic and Copper (2012), as well as three Prime-Time Emmy Awards for Fringe (Fox, 2009), Haven and The Path to 9/11 (2007). Tom has extensive production experience directing VFX and 2nd Units, Motion Control, Motion Capture, Miniatures and VFX element photography. Tom has recently supervised three season of Into the Badlands (AMC, 2016-2018) and Greta (SKE, 2018).
Anthony Paterson
Producer, VFX Supervisor
Anthony Paterson | Producer, VFX Supervisor
Anthony co-founded Rocket Science and is an Emmy nominated VFX Producer and Supervisor. Leveraging 30 years of passion for visual effects, Anthony expertly designs and delivers photo-real effects for live action, digital matte paintings and 3D environments. As the former founder of Nerve VFX, Anthony grew the company and sold it to Alliance Atlantis. He continues to build on his 61 credits for film and television by pursuing endeavours that challenge his creative and technical expertise. In addition to his four Gemini nominations, Anthony has been nominated for two Prime Time Emmy Awards for Hannibal (NBC, 2016) and The Path to 9/11 (ABC miniseries, 2007), and two Canadian Screen Awards for Killjoys (SyFy, 2016-17). Anthony is currently supervising October Faction (Netflix, 2019).
Chris Nokes
Head of Production
Chris Nokes | Head of Production
Chris is an extremely adept manager of the critical requirements of digital production for feature films and digital television. He oversees production at Rocket Science and has spent 10 years working as a VFX Producer and Production Manager. Chris is highly analytical and manages multiple production schedules, complex VFX production workflows and client communications. His feature film and television credits with Rocket Science include The Expanse (S1-S4), Resident Evil: The Final Chapter, Pompeii, The Mortal Instruments: City of Bones, Resident Evil: Retribution, Dolphin Tale 2, Hannibal, Copper, and Revolution.
Lara Osland | Producer
Lara is a 25 year film industry veteran who narrowed her focus to visual effects in 1998. Prior to that time her contributions to the industry include business development, public relations, casting and coordination. Lara leveraged her skill set to launch into the world of VFX Post-Production. In 2013, she also helped establish the Toronto sector of the Visual Effects Society and served on its Board of Directors for two years before landing her dream job at Rocket Science in 2015. Over the years Lara has had the opportunity to work with some amazing teams on notable credits including Tron: Legacy, The Three Musketeers, Pacific Rim, ResidentEvil: Retribution and Mama among others. At Rocket Science, Lara has played an instrumental role in producing award winning visual effects. She has received Canadian Screen Award nominations for Killjoys, Alias Grace and Cardinal. Further credits include Hell on Wheels S5, Hannibal S3 and Rupture. Lara is currently a VFX Producer on October Faction and on independent films Sweetness in the Belly, American Woman and Nest.
Tom Plaskett
VFX Supervisor
Tom Plaskett | VFX Supervisor
Tom began working at Rocket Science as an Intern in 2013 and has excelled at every position since, rapidly working his way up to becoming a VFX Supervisor. With experience as an on-set Data Wrangler and Coordinator, Tom's success is informed by his studies in multimedia production and broadcasting. He has worked on numerous shows at Rocket Science including Hannibal, Murdoch Mysteries and Into the Badlands. His talents were acknowledged with a Prime-Time Emmy nomination on Hannibal, the first of his career. He is a passionate gamer and gains inspiration from the many storytelling techniques found therein. Tom also revels in any new technology in which the studio invests. He avidly utilizes motion capture, Lidar and photogrammetry gear to explore new avenues for production.
Shoban Narayanan
Production Supervisor
Shoban Narayanan | Production Supervisor
Shoban joined Rocket Science three years ago and immediately offered a blend of technical ability and on-set production experience. Initially trained as a 3D artist, Shoban rounded out his experience as a Set Supervisor, Compositor and VFX Supervisor on numerous television and film productions. With a passion for visual effects inspired by such films as Contact, Twister and Star Wars, Shoban has worked in Malaysia, Dubai, Australia and India before settling in Canada in 2007. As a Compositing Supervisor, Shoban has worked on films such as Spiderman 3, I am Legend, Valkyrie, Alice in Wonderland, Legend of Tarzan and Gods of Egypt. A proficient photographer, Shoban also pursues screenwriting and enjoys producing short films of his own conception.
Madde Yakubu | HR Manager
Madde is the patient cornerstone for negotiations and discussions involving our talented team. She is thrilled to work with so many different people at Rocket Science. As Human Resource Manager, she believes that people are the most important part of any business. Madde strives to ensure that staff feel engaged, satisfied and productive, which brings her great satisfaction in her work. Madde's expertise in her field is equaled only by her collegial manner and sense of humour. She has earned an Honors BA in Human Resource Management and a Masters in HRM and Industrial Relations from the University of Toronto.
Graham Peddie
Operations Director
Graham Peddie | Operations Director
Graham joined Rocket Science in 2019 as Operations Director, bringing with him over 15 years of experience in production, business strategy, marketing and law. A lifelong fan of blockbuster franchises, Graham has expertise running VFX facilities in major markets such as Toronto, Montreal, New York and LA. His enthusiasm and entrepreneurial drive push him to find solutions on the fly. Graham appreciates titans of the industry such as Ridley Scott, James Cameron and Terry Gilliam.
Ian Britton
Senior Lead Compositor
Ian Britton | Senior Lead Compositor
A life-long design aficionado, Ian brings fifteen years of experience working on television and film productions to Rocket Science, in addition to a degree from OCAD in industrial design. Ian perpetually seeks to synergize his creative and technical abilities, which form the core of his passion for visual effects. Ian's first job in the industry was earned by creating a Star Trek animation on his Commodore Amiga in the early 1990s, which was then discovered by a visual effects supervisor for Robocop: The TV series. Ian has received a Gemini award for Best Visual Effects for Terry (2005), an Emmy nomination for Outstanding Special Effects for The Path to 9/11 (2006), a VES nomination for The Man Who Saved Christmas (2002), a Canadian Screen award Nominations for Titanic (TV miniseries, 2012) and Wet Bum (2014), and a Gemini nomination for Best Visual Effects for Everest (2007). Ian's notable influences include Syd Mead and Joe Johnston for their work in Blade Runner and Star Wars respectively.
Matt Philip | CG Supervisor
Matt started his career as an animator, modeler and effects artist. He joined Rocket Science five years ago as a 3D generalist. Matt appreciates working with people who love what they do, and savors seeing the final result of everyone's hard work coming together to make a great show. Matt has evolved into a talented CG Supervisor, whose work includes shows such as Greta, Hannibal, Killjoys, The Expanse, Dolphin Tale 2, The Strain, Vikings, Into the Badlands, Rupture, Alias Grace and Resident Evil: Final Chapter. His filmmaking and artistic influences are numerous, but can be distilled to include Feng Zhu, Sparth, Simon Stalenhag, Tom Thomson and Erin Hanson.
John Coldrick
VFX Supervisor
John Coldrick | VFX Supervisor
John joined Rocket Science 7 years ago and brings 30 years of industry experience as a senior 3D animator, compositor and VFX Supervisor. John is passionately focused on how to best visually express a story. His apex of job satisfaction occurs when he creates invisible effects, ones that are subtle enough to appear as though they were caught in-camera, on the day. He has worked on Bye Bye Man, Copper, Dolphin Tale 2, The Expanse, Fargo, Hannibal, Hemlock Grove, Killjoys, Rupture, The Strain and The Mortal Instruments among others. John has been nominated for a Prime-Time Emmy for his work on Hannibal. He has also received a Canadian Screen Awards nomination for Copper and won a Gemini for Best Visual Effects on The Arrow. A film fan since childhood, John's influences include Hitchcock, Kubrick, Coppola, Spielberg and Frankenheimer as his preferred cinematic auteurs.
Tony Cybulski
Lead Compositor
Tony Cybulski | Lead Compositor
Tony became a part of the Rocket Science team in early 2010 as a compositor after graduating top of his college class. He began his studies in computer science, but shifted from that field to pursue a career with greater creative freedom. Since 2010, Tony has sought further challenges and accepted roles such as Lead Compositor and Comp Supervisor on select projects. He enjoys leveraging his creative freedom towards developing a visual effect that really sells the shot. His body of work at Rocket Science includes Rupture, Dolphin Tale 2, Hannibal, Devil's Knot, Resident Evil: Retribution, Titanic and Take this Waltz. Tony has also earned five Canadian Screen Award nominations for his work on Murdoch Mysteries, Killjoys, Edwin Boyd and Copper.
Elisabeth Leeb
CG Supervisor
Elisabeth Leeb | CG Supervisor
Elisabeth is an artist of many talents. She holds a Masters of Applied Arts from the University of Salzburg and she plays the French horn in the Toronto Community Orchestra. Having worked with some of the largest companies in the industry, Elisabeth joined Rocket Science as a lighting TD in 2017, and has dedicated herself in such a way that her strong work was quickly noticed. As a CG Supervisor, Elisabeth has worked on Into the Badlands, Alias Grace, The Expanse, KillJoys and Murdoch Mysteries. Elisabeth likes to draw inspiration from artists such as Henri-Cartier Bresson, Vivian Maier and Saul Leiter.
Emerson Frota
Senior CG Supervisor
Emerson Frota | Senior CG Supervisor
Emerson studied chemistry in Brazil for 4 years and left university in 2003 to become a full-time animator, which was his passionate hobby. With an aptitude for math, physics and complex processes, Emerson launched his professional animation career with some of Brazil's largest production companies. He began producing effects and animations for television commercials and shows, which continued when he moved to Canada. As a CG Super with Rocket Science, Emerson is adept at identifying and untangling complex, technical challenges with efficiency and poise. His notable artistic influences are H.R. Giger, David Lynch and Edgar Allan Poe.