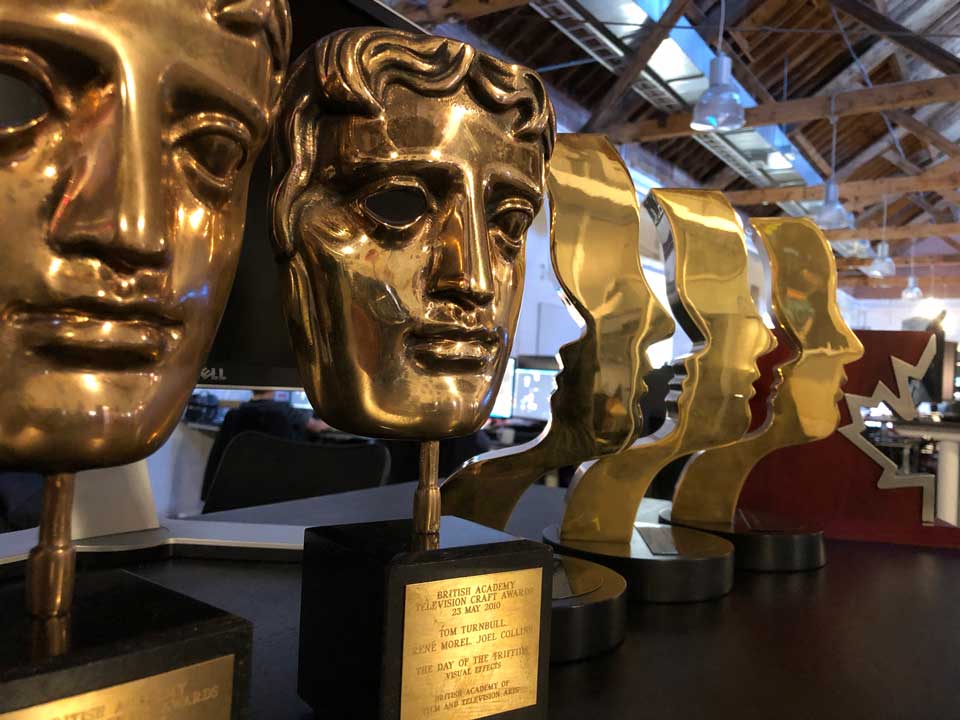 Rocket Scientists
From script to screen, Rocket Science VFX has been captivating international audiences with elegant, award winning visual effects since 2003.
Founded by Tom Turnbull and Anthony Paterson, Rocket Science has produced outstanding visual effects for ambitious studio films and television shows.
People
Rocket Science is an Emmy nominated boutique visual effects studio collaborating with filmmakers to create stunning visual imagery utilizing artistry, science and technology. Located in Toronto, Canada, notable credits include Eric Kripke's Emmy nominated superhero series THE BOYS (Amazon), the epic video game adaptation HALO (Paramount +), Steve Blackman's UMBRELLA ACADEMY (Netflix), and features such as Neil Jordan's GRETA (Sidney Kimmel) and David Cronenberg's feature CRIMES OF THE FUTURE. RSVFX is currently in production on Tim Burton's WEDNESDAY (Netflix), Mike Flanagan's Edgar Allan Poe adaptation FALL OF THE HOUSE OF USHER (Netflix), Rian Johnson's POKER FACE and Jean-Francois Richet's THE PLANE (Lionsgate).
Tom Turnbull
Co-Founder / Executive VFX Supervisor
Tom Turnbull | Co-Founder / Executive VFX Supervisor
Tom is a versatile VFX Supervisor with extensive experience directing visual effects shot around the world on behalf of Production and/or RSVFX. His 30 years+ of experience spans the gamut of digital effects, from miniatures to bigatures and historical pieces to futuristic landscapes. Turnbull has specialized knowledge in Motion Control, Motion Capture, Miniatures, VFX Element Photography and 2nd Unit Directing. A two-time BAFTA recipient for Best Visual Effects - ITV's mini-series TITANIC and BBC's THE DAY OF THE TRIFFIDS, Tom is also a three-time Canadian Screen Award winner - TERRY (CTV), SHATTERED CITY: THE HALIFAX EXPLOSION (CBC), and THE ARROW (CBC). Additionally, he holds three Emmy nominations - Fox's FRINGE, HAVEN and THE PATH to 9/11. Tom co-founded Rocket Science VFX in 2003. IMDB
Anthony Paterson
Co-Founder / Executive VFX Supervisor
Anthony Paterson | Co-Founder / Executive VFX Supervisor
Anthony sowed his roots in the early 90's working on motion graphics and digital effects for Gene Roddenberry's EARTH: FINAL CONFLICT (Universal), ROBOCOP: THE SERIES and TOTAL RECALL (Buena Vista) under his Nerve FX banner. The boutique would later be acquired by Canadian prodco/distributor Alliance Atlantis. In 2003, Anthony co-founded Rocket Science, working to blend science and artistry to create visually stunning imagery. He has been nominated for three Emmy Awards for THE BOYS (Amazon), HANNIBAL (NBC) and THE PATH TO 9/11 (ABC). Additionally, he has been continually recognized by his Canadian peers, with two Canadian Screen Awards (CSA) for KILLJOYS (SyFy), and four CSA nominations for his work in the field of visual effects. IMDB