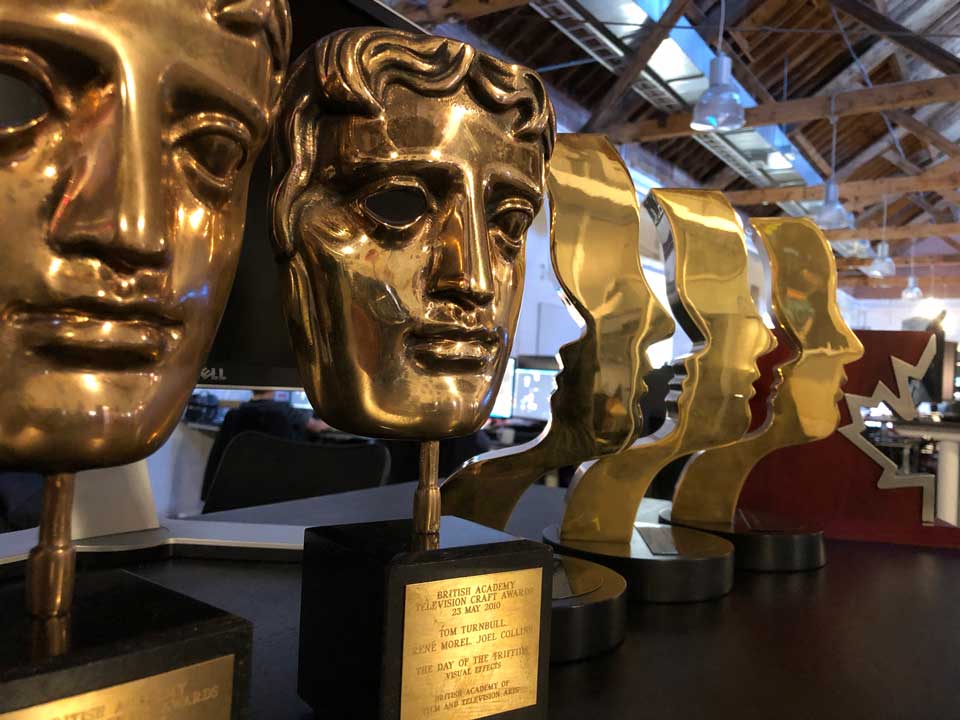 Rocket Scientists
From script to screen, Rocket Science VFX has been captivating international audiences with elegant, award winning visual effects since 2003.
Founded by Tom Turnbull and Anthony Paterson, Rocket Science has produced outstanding visual effects for ambitious studio films and television shows.
People
Celebrating our 15th year, Rocket Science VFX is proud to have independently grown to be among the largest VFX studios in Ontario. Leveraging our talented artists and a strong management team, Rocket Science promotes collaboration and communication across all departments. This ethos is paramount to conceptualizing and delivering outstanding visual effects. Leading the team are industry veterans who have honed their respective crafts for decades toward multiple award nominations and wins.
Tom Turnbull
Producer, VFX Supervisor
Tom Turnbull | Producer, VFX Supervisor
Tom is a versatile VFX Supervisor with extensive experience directing VFX around the world. His 30 years of experience span the gamut of digital effects - he's tackled everything from miniatures to bigatures and historical pieces to futuristic landscapes. He has specialized knowledge in Motion Control, Motion Capture, Miniatures, VFX element photography and second unit directing. A two-time BAFTA recipient for Best Visual Effects for ITV's mini-series Titanic (2013) and BBC's The Day of the Triffids (2010), Tom is also a three-time Gemini Award winner in Visual Effects for his work on CTV's Terry (2006) and CBC's productions (2004) Shattered City: the Halifax Explosion, and (1998) The Arrow. Tom holds two Canadian Screen Awards nominations for (2012) Titanic and Copper (2012), as well as three Prime-Time Emmy Award nominations for Fox's (2009) Fringe, Haven and The Path to 9/11 (2007). Tom co-founded Rocket Science VFX in 2003.
Anthony Paterson
Producer, VFX Supervisor
Anthony Paterson | Producer, VFX Supervisor
Anthony co-founded Rocket Science and is an Emmy nominated VFX Producer and Supervisor. Leveraging 30 years of passion for visual effects, Anthony expertly designs and delivers photo-real effects for live action, digital matte paintings and 3D environments. As the former founder of Nerve VFX, Anthony grew the company and sold it to Alliance Atlantis. He continues to build on his 61 credits for film and television by pursuing endeavours that challenge his creative and technical expertise. In addition to his four Gemini nominations, Anthony has been nominated for two Prime Time Emmy Awards for Hannibal (NBC, 2016) and The Path to 9/11 (ABC miniseries, 2007), and two Canadian Screen Awards for Killjoys (SyFy, 2016-17). Anthony is currently supervising October Faction (Netflix, 2019).
Chris Nokes
Head of Production
Chris Nokes | Head of Production
As Rocket Science VFX's Head of Production, Chris is a key member of the team. He is responsible for ensuring each production is delivered on-time and on-budget, managing multiple production schedules, complex VFX production workflows and client communications. His recent credits include The Expanse, Polar and Resident Evil: The Final Chapter
Tom Plaskett
VFX Supervisor
Tom Plaskett | VFX Supervisor
Tom began working at Rocket Science as an Intern in 2013 and has excelled at every position since, rapidly working his way up to becoming a VFX Supervisor. With experience as an on-set Data Wrangler and Coordinator, Tom's success is informed by his studies in multimedia production and broadcasting. He has worked on numerous shows at Rocket Science including Hannibal, Murdoch Mysteries and Into the Badlands. His talents were acknowledged with a Prime-Time Emmy nomination on Hannibal, the first of his career. He is a passionate gamer and gains inspiration from the many storytelling techniques found therein. Tom also revels in any new technology in which the studio invests. He avidly utilizes motion capture, Lidar and photogrammetry gear to explore new avenues for production.
John Coldrick
VFX Supervisor
John Coldrick | VFX Supervisor
John joined Rocket Science 7 years ago and brings 30 years of industry experience as a senior 3D animator, compositor and VFX Supervisor. John is passionately focused on how to best visually express a story. His apex of job satisfaction occurs when he creates invisible effects, ones that are subtle enough to appear as though they were caught in-camera, on the day. He has worked on Bye Bye Man, Copper, Dolphin Tale 2, The Expanse, Fargo, Hannibal, Hemlock Grove, Killjoys, Rupture, The Strain and The Mortal Instruments among others. John has been nominated for a Prime-Time Emmy for his work on Hannibal. He has also received a Canadian Screen Awards nomination for Copper and won a Gemini for Best Visual Effects on The Arrow. A film fan since childhood, John's influences include Hitchcock, Kubrick, Coppola, Spielberg and Frankenheimer as his preferred cinematic auteurs.
Ian Britton
Senior Lead Compositor
Ian Britton | Senior Lead Compositor
As Senior Compositor, Ian brings many years of production experience to Rocket Science. A Gemini-award winner for Best Visual Effects for his work on Terry (2005), Ian also holds an Emmy nomination for Outstanding Special Effects for The Path to 9/11 (2006). Additional recognition includes a VES nomination for The Man Who Saved Christmas (2002), two Canadian Screen Award nominations for Titanic (TV miniseries 2012) and Wet Bum (2014), and a Gemini nomination for Best Visual Effects on Everest (2007).